Infrastructure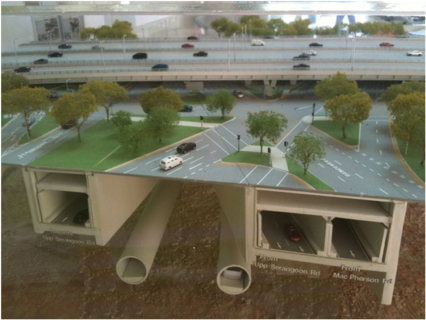 ER356 – Access Road to Changi North Industrial Park
Upgrading of Woodsville Interchnage comprised the design, construction and completion of vehicular tunnels between Seranggon Road/ Bendemeer road and Upper Serangoon Road and Macpherson Road to Bendemeer Road, Flyover structure across Woodsville junction, pedestrian overhead bridge (POB), re-construction of the former Serangoon Fire Station with the preservation of the facadeoutlook for conversion to facility building use, partial demolition of Jackson Centre building, bus shelters and bay, reconfiguration of the at-grade road system, sewer system, drainage system, traffic and pedestrian facilities and electrical and mechanical (E&M) works for tunnels, facility building, POB and bus shelter.
Gammons Construction Limted, Singapore branch has been awarded to the contract , with Fong Consult Pte Ltd as their Civil and Structural COnsultants.
Fong Consult Prte Ltd scope of service included providing civil and stuctural consultancy services to the permanent and temporary works such as deep excavation, vehicular tunnels, flyover structure, pedestrian overhead bridge, bus shelters, reconfigure the road system, sewer system, drainage system , and temporary traffic diversion scheme to facilitate the traffic flows during teh construction.
Project Key Data
| | | |
| --- | --- | --- |
| Date Of Award | Date Of Completion | Value Of Project (Estimate) |
| December 2007 | December 2010 | 130 million |